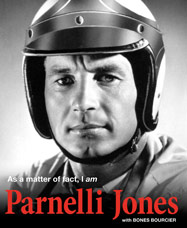 Let me just say it straight: As a Matter of Fact, I am Parnelli Jones is one of the two or three best motorsports' books of the last decade.
And that's no surprise. I've admired writer Bones Bourcier's work for years and it's impossible for me to think anyone could have done a better job telling Parnelli's iconic story. Bourcier is one of those blessed souls who has a knack for something and has been able to be successful at it -- as Jones was.
Talk about the right man for the job: That's Bones Bourcier writing about Parnelli Jones.
Bourcier's "trick" for this effort is to include an "eyewitness" account after every chapter, adding a nice perspective and context, from the likes of A.J. Foyt, Johnny Rutherford, Tony Stewart and others. (Mario Andretti penned the foreword and afterword.) Almost every book I read has pages or chapters which fail to keep me engaged. Not this one. Of course, credit for that rightly goes to Parnelli -- he's one of those rare people everyone knows simply by a first name -- whose road to becoming one of racing's all-time greats is a classic American success story. Grit, determination, talent, teaming up with the right people, and a little luck made him a winner in everything he raced. In a remarkably brief career -- which, thankfully, was his own choice.
One amazing fact I was reminded of in the book: Jones never spent a night in a hospital as a result of a racing accident. He came close after his car caught fire in the 1964 Indy 500 and he famously bailed-out on pit road. But, think about that, in racing's most dangerous era, Parnelli -- as tough a racer as there ever was -- avoided tragedy that got others, as recounted hard cover in a bit under 300 pages with marvelous photos from Jones' own collection. And, remember, Parnelli was doing this in risky sprinters and midgets, as well as Indy, NASCAR and USAC stockers and sports cars. And even in off-road competition.
Like most people, I guess, I best remember Parnelli at the Indy 500 -- especially his 1963 win (happy 50th anniversary!), 1964 bail-out, and near-miss in 1967 in the STP turbine. It's incredible to think he only ran Indy seven times and, no doubt, left a lot of great winning opportunities on the table there. He ran at the front in roadsters, rear-engine cars, and the turbine. But I also recall his heroic drives in sprint cars, on the dirt, in the Trans-Am series (still love those Grabber Orange Ford Mustangs!) when that was probably the best series in the country, as an Indy and championship-winning team owner, and his try to field a Formula One entry for Andretti. I respect Parnelli as one of the early drivers-as-media-celebrities, remembering him on Johnny Carson, magazine covers, in print ads and TV commercials. He not only could drive -- he could sell.
Here's one of my favorite quotes, especially considering Parnelli's aggressiveness behind the wheel:
"Sometimes it seems like A.J. is still in the middle of his old rivalries with Mario, Bobby Unser, and probably a few more guys. Foyt's a friend of mine, and I wish he'd see that life is a lot more enjoyable once you just let those things go.
"I've seen guys hurt, seen guys killed, seen some terrible things. We all have. And to me, once you've passed through that dangerous phase of a race driver's life, I think you ought to love life more. When you've survived the stuff we did, you ought to smell the roses every day and enjoy yourself."
A proper telling of racing history needed -- demanded -- Parnelli's bio.
A race fan -- or someone who simply appreciates the wonderful telling of a Great American Life -- couldn't spend a better $39.95. Do something nice for yourself -- order at www.coastal181.com or 877-907-8181.
I first met Rusty Wallace in April 1980. We had dinner, along with several other media people, at a Benihana in Philadelphia a few days before a USAC stock car race at Trenton Speedway. I was at the Philadelphia Daily News then and Wallace had just gotten national attention by finishing second in a Winston Cup race at Atlanta, driving for Roger Penske. I think everyone at the table agreed that we couldn't help but like Rusty right away, and a very fun evening it was. Yes, that was back in the days when Rusty had that Big Red hair!
Later that year I left newspapering to become CART's first communications director, but the opportunities to be around Wallace remained. I'd catch-up with him at Daytona or Michigan or Indianapolis and he was often one of the all-star drivers I got to work with when I was PR director for the IROC series. Rusty has always -- and I mean ALWAYS -- been very friendly with me, very cooperative with requests for his time, and as recently as last November at Phoenix International Raceway gave me two great items for my Arizona Republic coverage: He said Danica wasn't ready for full-time Sprint Cup and predicted PIR was just the place for "Boys, Have At It" action to return. We'll see about his first comment, but with the infamous Jeff Gordon-Clint Bowyer crew brawl in the garage area, Rusty called it right on (and helped me look good by headlining that possibility in that day's paper.)
So, with Rusty about to enter the NASCAR Hall of Fame (watch it live Feb. 8 on Speed), I just have to take this opportunity to say congratulations. I'm glad I was around to see all of Wallace's NASCAR career. Even more, I'm glad I got to know him.
Interesting from AdWeek: What it costs to be on a NASCAR car --
http://www.adweek.com/news/advertising-branding/your-brand-here-146795
A Gordon Kirby must read: Scott Pruett on the future of the combined U.S. sports car series --
http://www.gordonkirby.com/categories/columns/theway/2013/the_way_it_is_no369.html
New @ Twitter:
@SpinDoctor500
[ more next Monday . . . ]